CELEBRITY: Miley Cyrus
REAL NAME: Destiny Hope Cyrus
OCCUPATION: Singer, Television Actress, Film Actress
BIRTH DATE: November 23, 1992 (age 25)
PLACE OF BIRTH: Franklin, Tennessee
ZODIAC SIGN: Sagittarius
Who is Miley Cyrus?
Miley Cyrus, who was born in 1992 in Franklin, Tennessee, is the daughter of the 90s country star Billy Ray Cyrus.
The controversial singer and film actress who got an early fame as the star of Disney's 'Hannah Montana' series and went on to become a big successful musician, began her acting career at a very young age, after landing the starring role on Disney's hit show Hannah Montana in 2004. She later moved on to release many successful albums, that includes Breakout in 2008 and Can't Be Tamed in 2010, while becoming increasingly known for her weird behavior after the release of her 2013 single titled "Wrecking Ball," accompanied with a very controversial video, that became her very first No. 1 hit in US.
Miley Cyrus's Early Life and Career
The singer who was born Destiny Hope Cyrus on the 23rd of November, 1992, in Franklin, Tennessee, later changed her name to "Miley," that was the nickname she was given as a baby because of her often smile. Miley Cyrus who was brought up on her family's farm, near Nashville, Tennessee, with her two siblings and three half-siblings was very passionate about acting at a young age, thus thi got her to feature in her father's TV series, Doc, and later in Tim Burton's Big Fish in 2003.
Miley Cyrus in 2004 beat several other potential acts to got the role of Miley Stewart on the hit Disney show; Hannah Montana, the popular tween series that features a young pop superstar (Montana) who hides her celebrity personality to fit in and also be an everyday teen in real life. Miley's whole family had to eventually relocate to Los Angeles, California to accommodate the filming, alongside his father Billy Ray who joined her on screen as her fictional dad-manager. Later in 2006 Miley released a successful Hannah Montana soundtrack album.
Then in 2007, Cyrus's double album, Hannah Montana 2: Meet Miley Cyrus, launched a tour: "Best of Both Worlds," a concert series that sold out in record time, and thus had to be extended by 14 dates in order to make it up to some disappointed fans. While her successful 3-D concert film collected $31.3 million during its opening weekend in February 2008.
Miley Cyrus who changed her legal name to Miley Ray Cyrus in 2008, in the same year got people talking after striking a pose in controversial photographs taken by famed photographer Annie Leibovitz, for Vanity Fair magazine, from which the the harsh criticism and media frenzy that it led to ended up partially damaging her career. However her second studio album, Breakout also released in 2008, was a huge hit,that reached the top of the pop album charts.
Later in early 2009, she made available a look into her life with the autobiography Miles to Go, that featured her previous unseen photos, her family stories and "a look at her inner circle of loved ones."
"I am so excited to let fans in on how important my relationship with my family is to me. I hope to motivate mothers and daughters to build lifetimes of memories together and inspire kids around the world to live their dreams." Miley said in a statement on the book.
She later on in the same year 2009, released the EP The Time of Our Lives, that featured the hit singles "Party in the U.S.A." and "When I Look at You," The Time of Our Lives ended up being the singer's most successful song till date, that has sold more than 5.38 million copies and earned a spot among the best-selling singles of all time.
While enthusiasm for the singer's TV alter ego remained strong for several years, as well, in April 2009, Hannah Montana: The Movie scored at the box office, to bring in more than $79 million. With this amazing feat, the rising star matched the success with the release of a new album, titled 'Can't Be Tamed' in 2010. The same year she also starred in the romantic drama ;The Last Song', a movie based on a novel of the same name by Nicholas Sparks.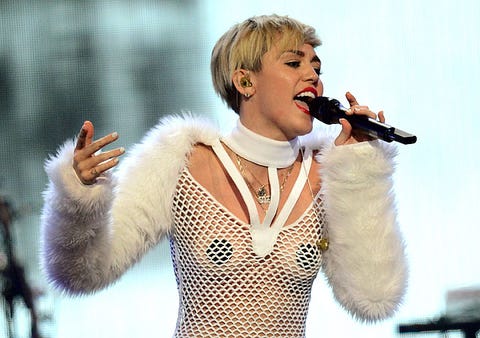 Subsequently Cyrus after deciding to distance herself from her Hannah Montana persona. late debut a new look by cutting her long hair to a short one and stick to wearing edgy fashions as part of an effort to craft a new image for herself, while no one had any idea of how far she intended to do that.
In August 2013, Miley Cyrus shocked the audience and the whole world at the MTV Video Music Awards (VMAs) in with the raunchy performance of her single, "We Can't Stop." While also appearing totally nude in the video of a follow-up single, "Wrecking Ball." Surprisingly the whole controversy seemed to propel the sales of Cyrus's fourth studio album, Bangerz, that was released in October 2013, while her single "Wrecking Ball" went ahead to become her first U.S. single to top the pop charts, and also earned her 'Video of the Year' Awards at the 2014 VMAs.
Miley who was announced as the host of the 2015 VMAs, made her efforts that evening by announcing the release of a new, free album. A marked exit from her pop roots, Miley Cyrus & Her Dead Petz explored themes of psychedelia as it wound through its 23 tracks. The album drew mixed reviews, with some critics praising the artist's willingness to push creative boundaries while retaining a sense of radio-friendly fare.
Cyrus who also got back to her acting career in 2015 appeared as herself in two holiday comedies: The Night Before, in which she starred as Seth Rogen and Joseph Gordon-Levitt, and the Bill Murray variety special A Very Murray Christmas also put her hosting duties to task once again as one of the new female judges of Season 11's The Voice alongside Alicia Keys with whom she competed to discover the top artist, alongside veteran judges Adam Levine and Black Shelton.
Miley Cyrus who also made headlines for her romantic life apart from her acting career and music briefly dated Nick Jonas of the musical group the Jonas Brothers in 2007. She was also romantically linked with model Justin Gaston, actor Carter Jenkins, and actor Liam Hemsworth.